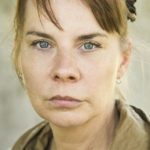 Bernie C. Byrnes has been working as a professional theatre dramturg/writer/director for blinkin' ages. Her published work ranges from short stories to academic essays, including several plays performed at the Edinburgh Fringe Festival. Previous professional writing commissions include the Future Tense Festival (Riot), the Northern Lines Festival (Wonderland), the Sunderland World Party Literary Festival (Love and Sprockets), the RSC (When There Were Ships), Ronnie Dorsey Productions (Becoming Marilyn) and Cahoots Theatre Company (Hows About That Then? The Jimmy Savile Story). Previous professional directing commissions include Ivy Paige, Another Midas, Kipper Tie Theatre, AC Random Productions, Stone Crabs, Arena North, Stage Focus and the Ashby Youth Group. Bernie was elected a Fellow of the Royal Society of Arts in 2011.
Phil met Bernie C Byrnes at a Rural Touring conference in 2015 and it was an artistic match there and then.
Bernie dramaturged and directed Roses and Castles and now directs Canals of Old England.